Understanding the view
Follow our guide below or skip to our walkthrough video.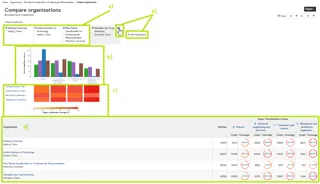 A key detailing the organisation name and their corresponding chart colour is shown at the top.
The histogram shows the total number of articles for each of your selected organisations within each subject classification.
A heatmap below shows the subject classification coverage for each organisation. The warmer colours indicate a broader coverage within the subject.
The table below shows the full figures including total number of articles, articles by subject and subject coverage.
Remove organisations from your comparison by hovering over an organisation name and clicking on the X. Add a new organisation by clicking "Add organisation" and searching for your chosen organisation in the search box. Click on your chosen organisation name to add it to the comparison. N.B. "Add organisation" only appears when there are less than five organisations in the organisation comparison.
---
Filtering your view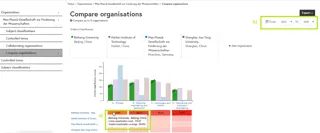 Hover over each organisation to highlight it within the charts.
Filter the date range of your results using the "From" and "to" drop-down selections.
---
Drilling down through Inspec subject classifications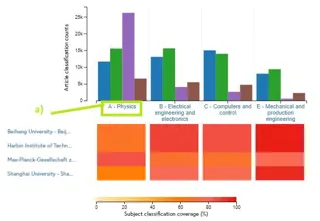 a) Click on one of the subject classifications to view the next level of detail. You can drill-down through up to 5 levels of classification codes to compare organisations at broad or niche levels.
For example:
Electrical engineering and electronics

Power systems and applications

Generating stations and plants

Thermal power stations and plants

Gas-turbine power stations and plants
Exporting your insights
Click on "Export as PDF" at the top of the page to download your current view. The PDF includes a link to your view so you can see return directly to the data in the future.
Inspec Analytics Plus only: You can also choose to download your insights as an Excel file.
Inspec Analytics organisation comparison page video