On the home page there are links to the different analytics sets you can explore, with a description of the kind of insights you can find in each. You can also find results across all three categories in one place, by using the search box on the home page.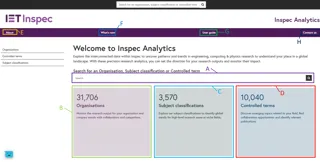 Search Bar (A): Use the box at the top of the page to search across organisations, controlled terms and classification codes.
Organisations tile (B): Click on the organisations box to view and search all organisations on the organisations list page.
Subject classifications tile (C): Click on the subject classifications box to view and search all subject classifications on the subject classifications list page.
Controlled Terms tile (D): Click on the controlled terms box to view and search all controlled terms on the controlled terms list page.
At the top of each page, you'll also find links to useful information about Inspec Analytics:
About (E): Find out more about Inspec Analytics.
What's new (F): Take a look at the latest features from Inspec Analytics.
User guide (G): Download, browse the Inspec Analytics user guide or watch our useful walkthrough videos.
Contact us (H): Find contact details for your regional representative and technical support.