Search box: Search for an organisation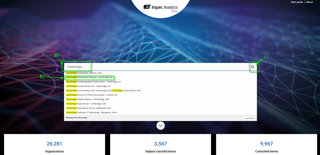 Start typing to reveal suggestions.
Click on an organisation to go to Organisation Profile for that organisation.
or view all results containing your search term on the Organisation Page by clicking on the search icon or pressing "enter".
---
Page links
Below the search box there are links to the different analytics sets you can explore with useful information about the kind of insights you can find in each.

Organisations: Click on the Organisations link to view all organisations in Inspec on the Organisations List page.
Subject Classifications: Click on the Subject Classifications link to view and search all Subject Classifications in Inspec on the Subject Classifications List page.
Click on the Controlled Terms link to view and search all Controlled Terms in Inspec on the Controlled Terms List Page.