We're releasing some powerful new features today. These provide greater insight into which organisations are leading research in specific areas and who they're collaborating with.
Monitor collaborations with the new collaborating organisations page:
This powerful new feature allows you to see at a glance who an organisation is collaborating with. Monitor your collaborations with industry, government and health organisations to highlight potential case studies to demonstrate the impact of your research output.
You'll see a new tile on the organisation profile called "Collaborations". This tile displays the top 20 organisations who have collaborated with your selected organisation. The number of collaborations is also displayed: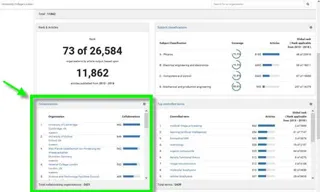 You can also click the "Collaborations" heading to see all organisations who have collaborated with your selected organisation on the collaborating organisations page. Here, you can see how collaborations have changed over time, search for specific organisations or filter organisations by a specific country, region or organisation type so you can focus on academia, industry or government.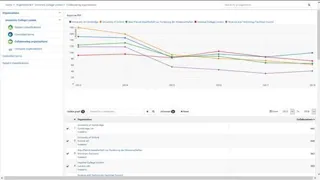 For example you could see which Chinese corporations and government bodies the University of Michigan is collaborating with or which organisations outside Egypt are co-authoring articles with the Egyptian Atomic Energy Authority.