Today, we added some great new features to Inspec Analytics including top journals and conferences for each of our 13k engineering concepts. We've also introduced some new features for our advanced search that will make finding the organisations you're looking for even easier. Take a look at the details below:
Top Journal and Top Conference for the engineering concepts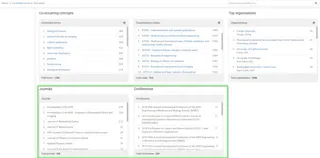 Researchers can now find the top journals and conferences for controlled terms and subject classifications listed in our concept pages. This is a great way to understand which journals to read and conferences to attend to get up to speed on your chosen subject. It's also a good way to find suggestions for relevant journals to publish in.
Librarians may also find it a useful way to make sure their collection covers the most relevant journals to support their faculties as well as the latest trending research.
Updates to the organisation advanced search
Search by organisation type
We've added some new features to the advanced search to make it even easier to find the organisations you're looking for. You can now search by "organisation type" e.g. Academic, Corporate, Government, Health & Hospital or Other to return all organisations within that category.
This is particularly useful for users who just want to see companies to potentially partner with, to understand which areas companies are increasing their collaborative research in or see what government agencies are publishing research on.
Search by country
Users can also now search by location in the advanced search to find all the organisations within a country, state or city.

Global rankings for Controlled Terms:
There are already some great features that allow users to compare the research output rankings in different subject areas: In the organisation view word cloud, we show the ranking for an organisation's top 20 Controlled Terms. In the Concept pages we show the top 20 organisations for any of the Controlled Terms and Classification Codes, and of course users can compare up to five organisations and drill down to see how their output compares.
Now we're starting to show the global ranking for all the subject classification codes for an organisation in the galaxy chart and trend chart.
So for example, we can see here that University of Texas Austin is 17th in the world (out of 10,123 organisations that have published on it) in 'Geophysics, astronomy and Astrophysics' – but 218th out of 2,923 in elementary particle physics.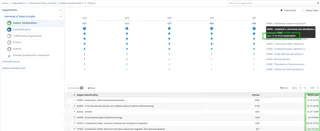 Global ranking is currently available for the top two levels of classification codes. Look out for more developments to cover lower levels in the future.