We're very pleased to announce some new functionality on Inspec Analytics today. Take a look at some of the great new features below:
New to the Organisations Page:
Cities and countries added
We've added cities and countries to all organisations listed in Inspec Analytics, making it easier to spot the difference between institutions with the same name in different locations.
You can see the city and country in the search box: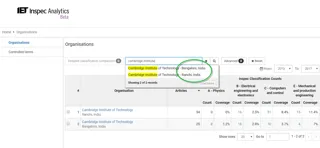 as well as the results list: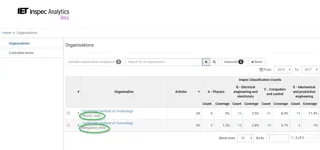 Subject coverage included
As well as seeing the number of articles each organisation has published, you can now also see how broad their research is in the new Coverage column: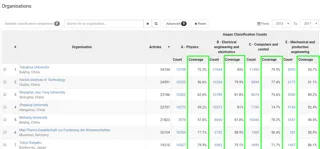 The figures here show what percentage of Inspec's subject classification codes an organisation covers.
e.g. If a university has published 3,000 papers classified as Physics and they are all on Condensed Matter, the breadth of their subject coverage would be a small percentage.
Comparatively, if an organisation has articles covering each of Inspec's 2,265 Physics classification codes, their research output would be much broader and you could expect to see a higher percentage in the coverage column.
This allows gives you a quick indication of how specialist an organisation might be.
And finally…
Detailed organisation comparison
You can now select up to 5 organisations from the Organisation page, and compare their article counts and subject coverage in a graph and heatmap:
Select your institutions and click "Detailed classification comparison":

Compare organisations in a graph and heatmap: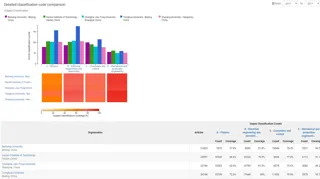 The graph shows you the number of articles published by each institution in each subject area.
The heatmap shows you the subject coverage, with warmer areas showing broader coverage.

T

he data is

also

shown in table form below.
Hover over each of the organisations, bars in the chart or heatmap to highlight one organisation.
You can also drill-down through the subjects into more niche areas and adjust the dates, giving you a very detailed view of how institutions compare over time.
Use the detailed organisation comparison to compare output and subject coverage in broad and niche areas.
Find niche areas of comparative strength and weakness.
Discover subject areas where no one had published recently and consider these as potential research areas where you could stand out from your peers.