We are pleased to announce a brand-new feature in Inspec Analytics today.
Concept Pages allow you to explore global trends and related topics for any of Inspec's Controlled Terms and Classification Codes: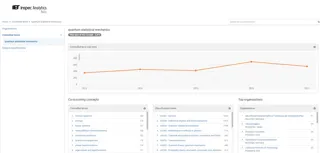 This allows you to:
Explore how research output has changed globally over time for specific subjects
Discover related fields you may want to explore
Identify the most prolific universities to find collaborators and benchmark your organisation
Each concept page shows:
Controlled Term/ Classification Code name
Publishing trend over time (5 years)- the number of articles which have been published in Inspec with the given term
Top 20 co-occurring Controlled Terms- the most commonly used Controlled Terms which appear on articles with this term
Top 20 co-occurring Classification Codes- the most commonly used Classification Codes which appear on articles with this term
Top 20 organisations- publishing on this concept. Clicking on these links takes users through to the Organisation's page
Related Controlled Terms in the Inspec Thesaurus- broader, narrower or related terms linked to this concept that users may wish to explore
Related Classification Codes- classification codes which are related to the concept, if applicable
You can access the concept pages by clicking on a term in the organisation view word cloud or by selecting "Controlled Terms" or "Classification codes" from the homepage.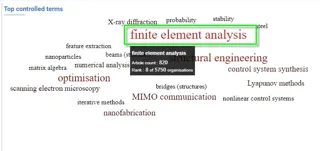 Unlike automated indexes, Inspec has been human curated by subject experts who understand the context a term is used in. This means there is no confusion between concepts with similar or identical names e.g. Mercury the planet and Mercury the element.