We're very pleased to announce that we have released a new search function, which allows you to find different types of results one search box. We've also made some new updates to our features across Inspec Analytics to enhance your search.
Take a look at the details below.
'Search all' function:
Our new home page search box allows you to search across organisations, controlled terms and classification codes in one place, making it quicker to find what you're looking for.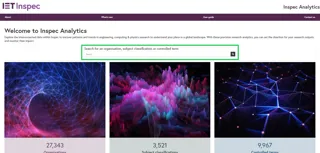 For example, if you search for 'Brown' in the search box on the home page, the following results will show:
Organisations containing 'Brown' in the name e.g. Brown University and Asea Brown Boveri Ltd.
Subject Classifications containing 'Brown' e.g. brownian motion and brown dwarf stars.
Controlled Terms containing 'Brown' e.g. power brownouts.
You can then follow the links to explore one or all your results.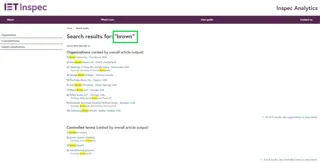 Compare organisation's research output:
We've made an enhancement to the organisations list page, so that you can now use it to compare research output for up to 25 research organisations at a high-level over a period of time.
In the example below, you can see the total output for high-level subjects such as physics for Ivy League Universities displayed in a trend view.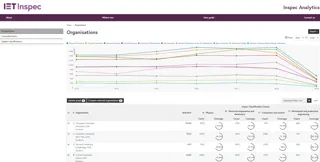 Explore concepts in more depth:
We have also made updates to the following tiles on the concept pages.
Narrower, broader or related controlled terms for a controlled term.
Journals for a controlled term of classification code
Conferences for a controlled term or classification code
Now you can click on the headings of these tiles to explore beyond the top items listed on the concept page and search the full list for a more comprehensive view.
For example, if you click on the heading of the journal or conference headings on the concept pages, you can explore the full list of journals or conferences related to your selected subject.
This is helpful to compile a list of literature resources for a subject and may also be used to identify potential conferences to attend and journals to publish in.