We are very pleased to announce that following a period of beta testing, we have now launched the full release of Inspec Analytics!
Contact your regional representative to arrange a demonstration.
Here are a few of the exciting new updates to look out for:
New look:
In line with the IET's new brand, Inspec Analytics has a bold new look. You'll also notice links across the top of each page to help you find the user guide and news on the latest features.
Additional data:
As we're continuously indexing the latest research through Inspec, the data in Inspec Analytics is updated regularly. Don't forget to check trends regularly to see how the latest research is impacting research trends at both organisation and global level.
Monitor, search and compare all organisations publishing on a selected topic:
Previously, you could view the top 20 organisations publishing on any of our subject classifications and controlled terms by looking under the "Top organisations" tile on our concept pages. Now, you can view and filter all organisations publishing on your selected term by clicking on the "Organisations" heading at the top of the tile:

This takes you to the controlled term organisations page: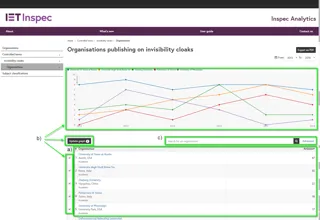 The table displays all the organisations associated with research for your selected topic. Organisations appear listed in order of research output indexed in Inspec with the highest total number of articles at the top.
To compare output for a number of organisations, select your chosen organisations and click "update graph". The line graph at the top will display the research output for each of your selected organisations over time. Hover over the points to display the number of articles for each year.
Search for an organisation using the search box or click "Advanced" for advanced search options. This allows you to filter organisations by a specific country, region or organisation type so you can focus on academia or industry.