The Institution View: Rankings added to the word cloud
New to our Institution View, a great new feature allows you to see where an organisation ranks for top thesaurus keywords.
When you hover over thesaurus keywords in the word cloud you will now not only see the number of articles the organisation has published in the selected topic but also its position among all organisations publishing in that field based on article output: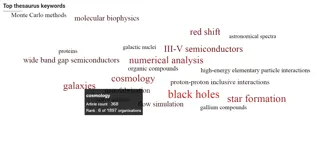 Today we've also made a slight adjustment to the Galaxy and Trend charts in the Institutional View:
As you drill down through the Inspec subject classifications, you'll now notice some circles are greyed out. This is to let you know that there aren't any more levels to explore and you've reached the most specific code associated with articles from the organisation you're viewing.