We're pleased to announce that Inspec Analytics is now live!
This new research analytics application allows Inspec subscribers to mine the trends in institutional research output contained within Inspec. Users can search for any of over 22,000 universities, companies and government bodies, and  see what subject areas they have published in over the last 5 years, and 'drill down' into the hugely detailed scientific classification of their articles, as contained within the Inspec database. This gives researchers unique insight into trends within Physics, Electrical Engineering & Electronics, Computing & Control and Mechanical & Production Engineering. 
Using Inspec Analytics, universities can see which specific areas of particle physics, astronomy, materials science, cybersecurity software and mechanical properties they have increased or decreased their research output in.
Researchers can dig in to almost 10,000 subject keywords and 3,600 subject classifications, which have been annotated and curated by subject matter experts for almost 50 years, to see comparative strengths and weaknesses of their own organisations, determine which institutions to collaborate with on specific topics, and identify new areas to investigate.
Inspec Analytics gives the most detailed high quality insight into research output within engineering, computing and physics, and future releases will add advanced organisation comparison and greater granularity to collaborations, concepts and authors.
Getting started
Search for an organisation from the home page of Inspec Analytics: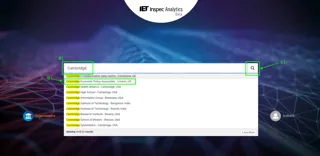 Search box: Search for an organisation
Start typing to reveal suggestions.
Click on an organisation to go to Institution View for that organisation
or view all results containing your search term on the Organisation results page by clicking on the search icon or pressing "enter".
Understanding the view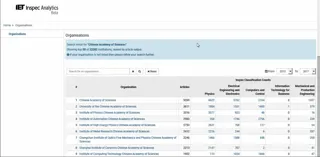 The Institution View IA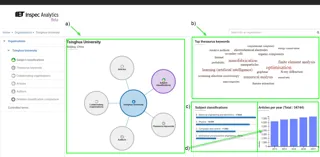 Understanding the view
The galaxy chart: this shows you the different attributes associated with the institution you are viewing. Select Subject Classifications enter to the Galaxy Chart view and explore the publishing output for each subject:
The word cloud: this shows the most popular controlled terms or keywords from the Inspec thesaurus associated with articles from the institution you are viewing. The size of the keyword indicates the proportion of articles tagged with that keyword.
Subject classifications: This shows the number of articles indexed for each Inspec subject classification.
Articles per year: This histogram shows the total number of articles indexed for each year in the last five years. Hover over each bar to see the figures.