Understanding the view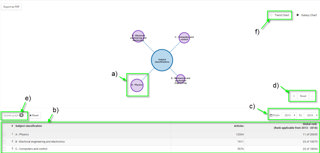 Hover over each of the subject classifications to see the number of articles indexed for your selected organisation
or click to drill down to the next level of detail. You can drill down up to five levels through the Inspec subject classification thesaurus. An example of this is:

Electrical engineering and electronics

Power systems and applications

Generating stations and plants

Thermal power stations and plants

Gas-turbine power stations and plants

The number or articles are also shown in the table below where you can also see the organisation's global ranking for each classification.
Filter the date range of your results using the "From" and "to" drop-down selections.
Zoom into the graph using the plus and minus buttons.
Filter by subject classification and update the graph by selecting your chosen classifications and clicking "Update graph".
Switch to the Trend Chart using the toggle at the top.
Drilling down through the Inspec subject classifications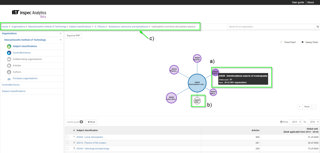 Hover over each subject to see the full classification name and number of articles.
A grey circle indicates there are no further levels to view.
The "breadcrumb" at the top shows your path. You can click any point in the "breadcrumb" to drill back up to return to higher levels of detail.
Exporting your insights
Click on "Export as PDF" at the top of the page to download your current view. The PDF includes a link to your view so you can see return directly to the data in the future.