Understanding the view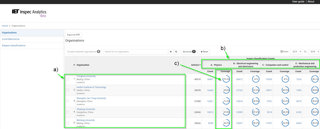 Organisations appear listed in order of research output indexed in Inspec with the highest total number of articles at the top.
The number of articles is also shown by Inspec classifications: A- Physics, B- Electrical engineering and electronics, C- Computers and control, E- Mechanical and production engineering.
The coverage column indicates the breadth of coverage the articles cover under each classification e.g. If the articles cover half of the 2,308 Physics classification codes in Inspec, the coverage will be 50%. This is a good indicator of how niche an organisation's research output is; two organisations may publish the same number of articles within "Physics" but one could be a general research organisation, whereas the other only publishes on, for example, astronomy.
The complete breakdown of classification codes is as follows:
---
Reordering your results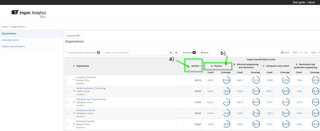 Click on "Articles" to reverse the order of your results with the lowest number of articles at the top.
Click on the one of the subject classifications to reorder your results by that subject e.g. A- Physics.
---
Navigating your results

Reveal more results per page using the drop-down at the bottom of the table.
Click through to the next page using the arrows
or jump to a row by typing your row number in the "Go to" box.
---
Filtering your search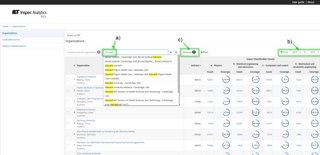 Search for an organisation using the search box at the top of the table. Start typing to see suggestions or press "enter" to see results including your search term.
Filter the date range of your results using the "From" and "to" drop-down selections.
Click "Advanced" to see advanced search options: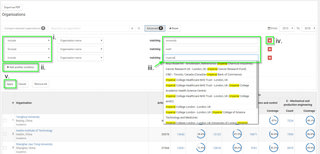 Use the drop-down to select "Include" of "Exclude" search terms
Add multiple conditions. Each conditions will be treated as "OR".
Search for whole words, partial words or start typing to see suggestions and select an organisation.
Remove conditions by clicking on the corresponding red X or by clicking "remove all"
Click "Apply" to see your results.
---
Comparing organisations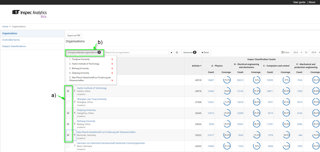 Select up to five organisations from your results.
Click "Compare selected organisations" to see the Organisation Comparison page.
Exporting your insights
Click on "Export as PDF" at the top of the page to download your current view. The PDF includes a link to your view so you can see return directly to the data in the future.